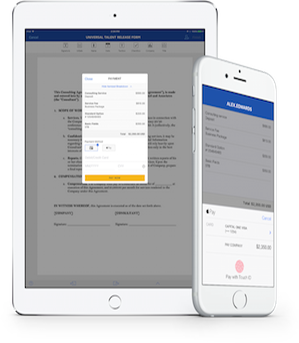 Over 94% of businesses received late payments during the past year*
But you can be the exception to this rule with DocuSign Payments. Now, instead of collecting payment and signatures as separate, disjointed steps - which results in payment delays or failure to collect altogether - you can do it at the same time.
DocuSign is integrating with the world's leading payment solutions to deliver a fast and easy way to collect payments and signatures in just one step.
Get paid instantly and avoid delays in collecting money owed
Spend time growing your business rather than manually collecting payments and signed agreements
Prevent inaccuracies and reduce errors to ensure you get paid the right amount
DocuSign Payments is coming in early 2017.
Complete the form to stay up-to-date.